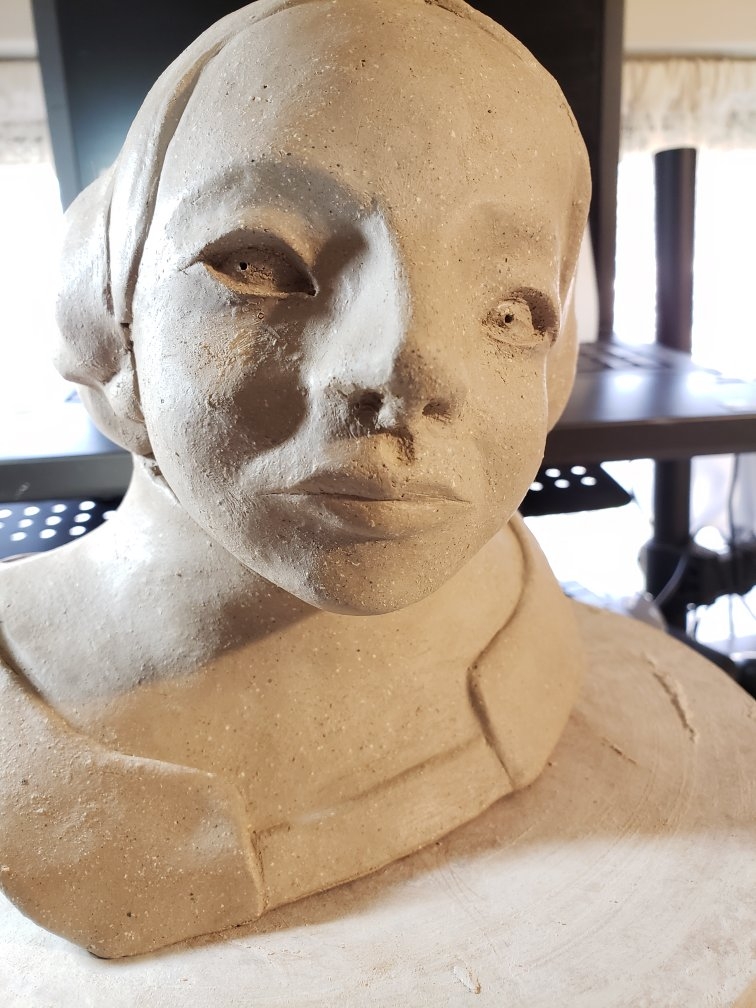 Summer made it almost impossible to work in the studio, which I must precise, is a converted school bus. The heat, the dry air, the sweat, the thirst, and the exhaustion from all this. Instead of working with clay, I have been working on my genealogy.
A long time ago, while I was still a teenager, my grandfather gave me an envelop with an address on it. It was our cousins from "the Americas". I was starting to be comfortable in English and he asked me to write to them. I have maintained with my American cousins an epistolary contact until one of them had died. I did not know their children and actually, I did not know much about them.
With summer, I decided to do my best to find them, trying to remember the names, the places, the clues to start a research. I realized that I did not even know the maiden name of my grandmother, my great grandmothers… so many blanks in the field. I took a free suscription with Ancestry and I paid for 6 months membership on Filae. It took me about a day to find the names in my family and go up to my great grandmother. Her name was Ernestine.
Ernestine had so many brothers and sisters that we have not finished the count. Many died at birth, sometimes while toddlers and some while teenagers. The death rate was incredible but among the children who survived to adulthood, Ernestine had a sister. Her name was Amélie. Ernestine was born in 1889 and Amélie in 1891.
On December 15, 1910, Amélie gave birth to a child. She was a single mother giving birth in a small village of the countryside of France. She bore this child and did not give him a name. It is only after Christmas, on December 31, 1910, that she recognized her son and gave him the name of Edouard. In the meantime, Christmas carols and the sermon from the priest telling the beautiful story of Mary. The young Amélie had become a mother while she was only 19, still considered a minor according to French laws.
Amélie has lived in the small village of Pierrefitte in France and she rose her child with her own family, brothers, sisters, a mother and a father. The family only remembers of Amélie as this young girl who always wanted to bath and change cloths, as if a cultural gape had already arose. In 1914, while little Edouard was four, the first world war erupted.
We don't really know what happened, the family was not really poor, but not highly educated either. They were farmers living in the village where their ancestors had settled. The genealogy goes back to 1631 and we could certainly go farther backward in time, one family name and many ancestors.
In March 1918, young Edouard only age 8 wrote to his mother some touching words with touching paper decorated with flowers, ribbons and a bird, the swallow. The letter said "My dear mother, I am very small and uneducated, but despite everything, I want to come and write you a few lines to tell you that Maxense is doing very well for the moment. Dear mum, the time is hard for me not to see you, I hope when you are cured that you will be well because I will be very happy to see you. Dear mom, I say the kisses of the cousin. Your little one who kisses you very much has the pleasure of kissing you for real one day."
WWI had separated mother and child and how to explain to a child? On a picture, she is dressed in white like a nurse and we learn from the address on the envelop that little Edouard wrote to his mother while she was in Nantes. Somebody had told him that she was sick while probably, she was serving to nurse the wounded soldiers. In Nantes, the American army had built hospitals for the troops. While her family, child, brothers, sisters, parents, uncles, where still in their village, she had braved the distance to serve her country.
There, we can only imagine her story, but she met an American soldier. His name was Matt, a tall, joyful and really much determined man. He hired a lawyer and married Amélie. He adopted her son through marriage. Later in 1919, the three went back to the small countryside village. The war was over, the family was scattered with its own wounds. My grandfather was 3. His mother, Ernestine, was 30. Edouard was 9 and soon he was going to rebirth.
On July 8th, 1919, Amélie and Edouard embarked on board of the USS Manchuria in Saint Nazaire. They traveled with the 816th Pioneer Infantry and few other war bride and children. In total, they were four children for 10 days travel across the Atlantic. When they passed the border to embark in Saint Nazaire, Amélie whose full name was Florence Augustine Amélie would no longer be called Amélie. In the United-States, she is known as Florence. Little Edouard whose full name was Emile Edouard, became Edward in the United-States. Both had taken the last name of Matt.
Florence and Edward arrived in Hoboken, NJ, on July 18th, 1919, then they moved to Chicago where Matt and his mother provided them with home and family. Matt was an engineer. Little Edward grew up to become a man and an engineer like his father. His only father and though for many reasons. When we look at the pictures, the evolution of Florence was fantastic, really fantastic in terms of beauty. She became such a woman.
The portrait I made with clay was inspired from her, a day, on a picture, when she celebrated a birthday. The cake has 18 candles and books are sitting on the table with a ribbon showing that Edward just passed 18, nine years after he arrived in the United-States. The family is gathered, she looks tense and beautiful, with her hairs and a turtle neck shirt. She is looking at something, behind the camera high on a wall or a window, and the look in her eyes says something, so much that she has travelled in mater of space and time. She seams modern to me although I never known her, but her name "Florence", the day in Saint Nazaire when she left France. This is also my birthday, as a way to reborn with her story, at least in the art of making portraits.